Three Ways to Serve in AmeriCorps VISTA:
VISTA Member, VISTA Leader, Summer Associate.  Learn more.
WE ARE RECRUITING VISTA MEMBERS FOR 2017-2018!
Apply to be a VISTA Member in an innovative non-profit working towards food security for a full year! 13 positions available – scroll down to apply!
The CT Food Justice Project envisions a multi-generational,

racially and economically diverse group of leaders with the skills to move communities across Connecticut toward a just food system.
CONTACT
Esteban Kim, VISTA Leader, 909-525-8511
Liz Castle, Project Assistant, 802-323-7573
Jiff Martin, Project Director, 860-870-6932
Food Justice is a movement meant to address hunger and health disparities by addressing the underlying issues of racial, class, intergenerational and other inequities in the food system that correlate to inequities in economic and political power.
The Challenge: The populations most affected by injustice in the food system are overlooked as those who can make change. Identified food insecurity is often cause for action but action is taken on behalf of the community, not by or from the community. Food justice organizations working with underrepresented populations have limited opportunities to network; those same organizations lack a forum for sharing best practices and collaborating on events. Community leaders in these programs around the state lack opportunities to meet and share as peers, challenge negative stigmas, and become further empowered to be part of the food justice movement.
The Solution: The Connecticut Food Justice Americorps*VISTA Project seeks to build the capacity of high-impact organizations focused on community food security and food justice. With VISTA Member support, host organizations commit to empowering their communities to have impact on food-related programs and services, and the food system in Connecticut as a whole. Host sites will share best practices and learn new skills in engaging people from diverse backgrounds and perspectives through participatory decision-making.
CT Food Justice Project Host Sites (2017-2018)

The Connecticut Food Justice Americorps*VISTA Project is a partnership between non-profits throughout the state, each with one to two VISTA members building the capacity of that organization. In 2017-18  host sites include;
CT Food Justice Project Host Sites (2016-2017)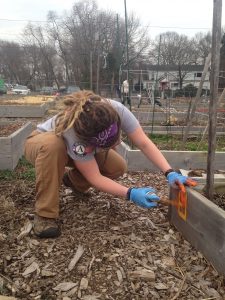 The Connecticut Food Justice Americorps*VISTA Project is a partnership between non-profits throughout the state, each with one to two VISTA members building the capacity of that organization. In 2016-17 there were 10 host sites. Those include;
"This project has given me the ability to further explore myself, 
while exploring my role in society and my community."
– Sienna Valente-Blough, VISTA Member 2015-16
VISTA  Summer Meals Outreach Program (2016)